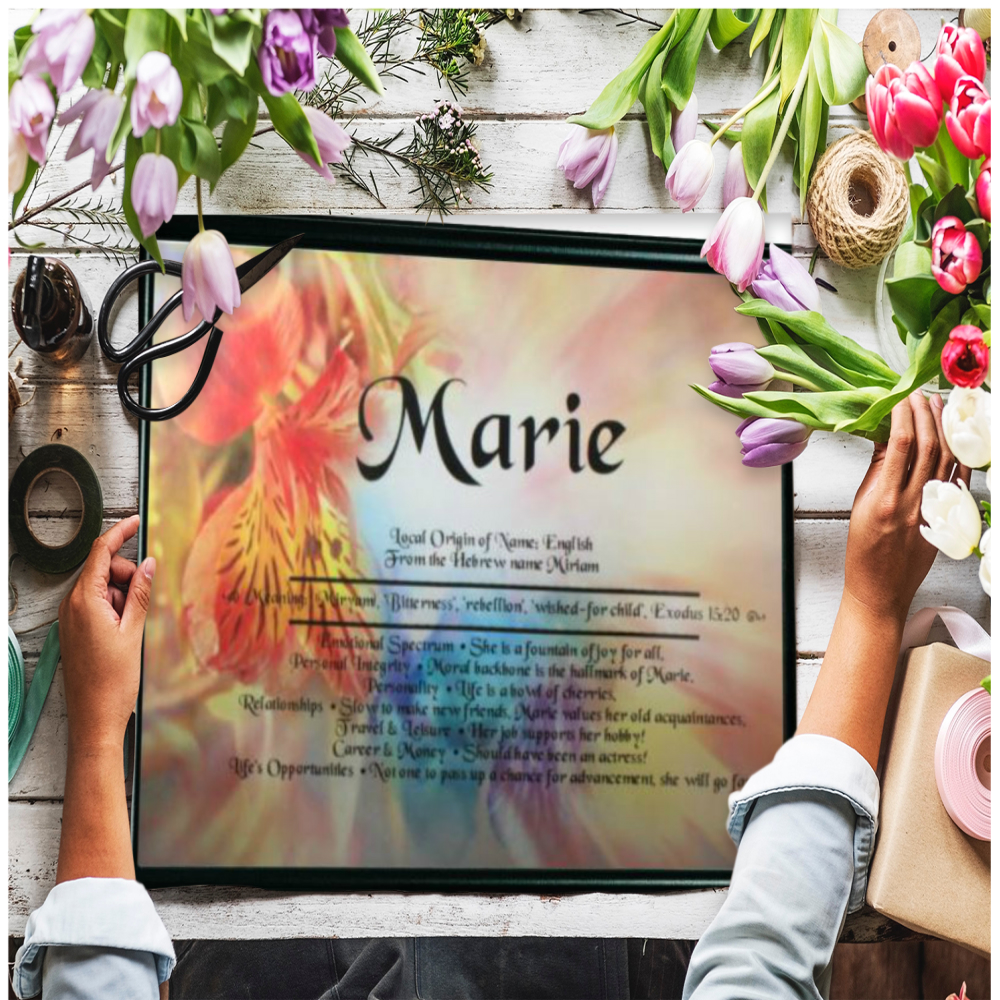 Details
Ever wondered about the origin or meaning of a first name? (Frame Not Included) Our Specialty Almanac Program containing thousands of first names and interesting information about each name can tell you all about it and more; Including the local origin and root of your first name; emotional spectrum; personal integrity; personality; relationships; travel and leisure; career and money and life's opportunities. Specific to the name entered.
✔ Receive one PERSONALIZED FIRST NAME MEANING PRINTS offered by KMKreations is printed on premium 8/5x11 heavy stock paper with gloss finish and SHIPPED inClear See Thru Protective Envelope, Delivered by US Postal Service.
✔PERSONALIZED NAME GIFT PRINTS offers a very personal way for you to gift a meaningful and personal gift to the people in your life. ( Mom, Dad, Sister,Brother, Daughter, Son, Grandma, Grandpa, Aunt, Uncle, Neice, Nephew, Cousin, Teacher, Co-Worker, Boss or any one you want to present it to.
✔PERFECT GIFT FOR ANY OCASSION – Birthday, New Baby, Newlyweds, Anniversary, Christmas, Mother's Day, Father's Day etc.
✔PREMIUM QUALITY MADE TO LAST – Prints are created with laser printer to help prevent smearing when handling on gloss stock to assist in it being less likely to tear. Window envelope makes it promptly ready for display or gifting with less hassle. Frame ready if preferred.
✔VERY COOL AND UNIQUE GIFT, that will fill the blossom with appreciation for such a personable keepsake, clearing saying "It's All About You" without you having to say a word.
✔YOU SIMPLY PROVIDE THE NAME AND SEX of the recipient and we'll do the rest.
✔THIS IS A CUSTOMIZED PRODUCT – Personalized Products Are Not Eligible For Return. However if there is a problem, we will be happy to assist you. Orders are often fulfilled and shipped within 24 Hrs or Less.
✔ ADD TO CART TO GET YOURS TODAY! You'll be so glad you did!